Khadija Foundation Vaccinates City Traffic Warden Rawalpindi
Traffic wardens render invaluable services in maintaining the traffic rules in the society. They are always found on field on the roads, be it scorching heat, a rainy evening or cold foggy mornings to maintain the flow of traffic so we all can keep moving.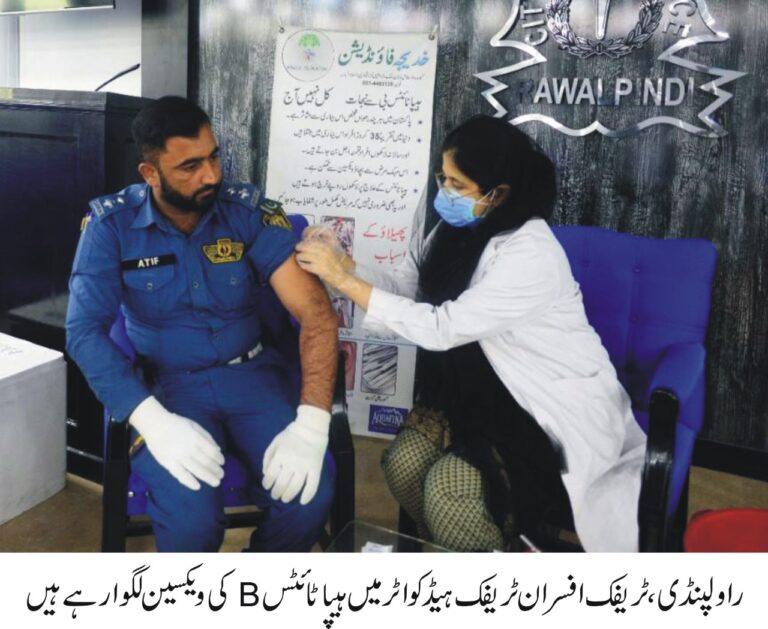 As Traffic wardens works selflessly for the city, Khadija Foundation joined hands with the Chief traffic warden to provide free vaccinations against Hepatitis B and Typhoid.
We vaccinated around 1000 traffic wardens all over Rawalpindi district. We covered cities including Murree, Rawat, Gujar Khan, Taxila and other under Rawalpindi district.      
Circle in charge Murree, DSP Zafar Rana quoted "I personally thank Khadija Foundation team for visiting us and administrating Hepatitis B and typhoid vaccines to all our team. This is an amazing initiative for society's welfare".
The chief traffic warden officer, Captain (R) Rai Mazhar Iqbal and all the duty officers were among the recipients of the vaccination. Khadija Foundation aims to work for the betterment of our society and eradicate Hepatitis B from our society.
Sit venenatis venenatis ultrices nulla turpis erat donec nulla mattis lobortis dignissim quis est orci aenean morbi platea et ornare facilisis pellentesque magna et.
Create and Enhance Comprehensive Early Childhood Systems
Erat morbi gravida ut massa sociis tempus cras nunc lobortis tristique mi sollicitudin ut lectus elit est, quisque eget sed arcu praesent in gravida.
"Dolor fermentum amet tortor cursus duis imperdiet amet, velit, amet, amet sit tincidunt morbi tristique phasellus nec pretium leo nulla cursus lectus."